Product Summary
The RD70HVF1 is a MOS FET type transistor specifically designed for VHF/UHF High power amplifier applications. The RD70HVF1 is for output stage of high power amplifiers in VHF/UHF Band mobile radio sets.
Parametrics
RD70HVF1 absolute maximum ratings: (1)VDSS Drain tosource voltage: 30 V; (2)VGSS Gateto source voltage: +/-20 V; (3)Pch Channel dissipation Tc=25℃: 150 W; (4)Tj Junction Temperature: 175 ℃; (5)Tstg Storage temperature: -40 to +175 ℃; (6)Rth-c Thermal resistance Junction to case 1.0 ℃/W.
Features
RD70HVF1 features: (1)High power and High Gain: Pout>70W, Gp>10.6dB @Vdd=12.5V,f=175MHz. Pout>50W, Gp>7.0dB @Vdd=12.5V,f=520MHz; (2)High Efficiency: 60%typ.on VHF Band; (3)High Efficiency: 55%typ.on UHF Band.
Diagrams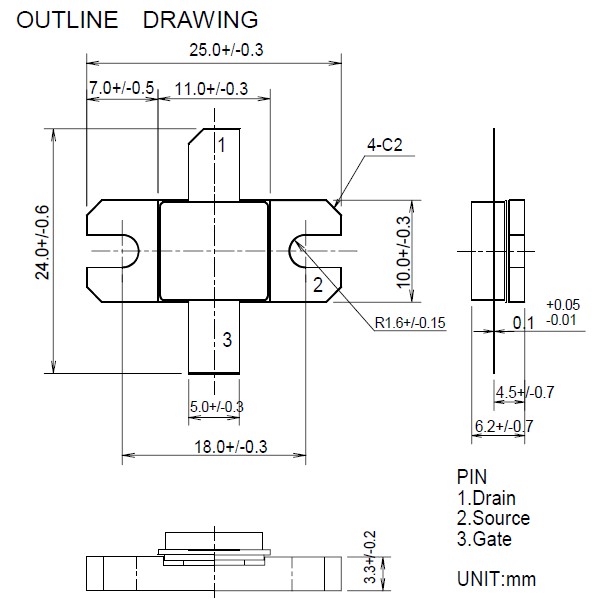 Image
Part No
Mfg
Description
Pricing
(USD)
Quantity

RD70HVF1

Other



Data Sheet

Negotiable
Image
Part No
Mfg
Description
Pricing
(USD)
Quantity

RD701F-20B1-15F-A100K

Alpha (Taiwan)

Potentiometers Audio 7mm 100K

Data Sheet



| | |
| --- | --- |
| 0-1: | $1.77 |
| 1-50: | $1.64 |
| 50-100: | $1.47 |
| 100-500: | $1.12 |


RD701F-20B1-15F-A10K

Alpha (Taiwan)

Potentiometers Audio 7mm 10K

Data Sheet



| | |
| --- | --- |
| 0-1: | $1.77 |
| 1-50: | $1.64 |
| 50-100: | $1.47 |
| 100-500: | $1.12 |


RD701F-20B1-15F-A50K

Alpha (Taiwan)

Potentiometers Audio 7mm 50K

Data Sheet



| | |
| --- | --- |
| 0-1: | $1.77 |
| 1-50: | $1.64 |
| 50-100: | $1.47 |
| 100-500: | $1.12 |


RD701F-20B1-15F-A5K

Alpha (Taiwan)

Potentiometers Audio 7mm 5K

Data Sheet



| | |
| --- | --- |
| 0-1: | $1.77 |
| 1-50: | $1.64 |
| 50-100: | $1.47 |
| 100-500: | $1.12 |


RD701F-20B1-15F-B100K

Alpha (Taiwan)

Potentiometers Linear 7mm 100K

Data Sheet



| | |
| --- | --- |
| 0-1: | $1.77 |
| 1-50: | $1.64 |
| 50-100: | $1.47 |
| 100-500: | $1.12 |


RD701F-20B1-15F-B10K

Alpha (Taiwan)

Potentiometers Linear 7mm 10K

Data Sheet



| | |
| --- | --- |
| 0-1: | $1.77 |
| 1-50: | $1.64 |
| 50-100: | $1.47 |
| 100-500: | $1.12 |